ATP Tour Week Seven: Londero capable of going one better than last week
The ATP season continues with three further events in the upcoming week. After success last week, Dan Weston picks out another hopeful...
Ruud triumphant in Buenos Aires
Casper Ruud delivered success for us last week with the talented Norwegian taking down the Buenos Aires 250 at around the

25.00

mark. Although some of this was down to pre-tournament favourite Diego Schwartzman's injury (which left him facing Pedro Sousa in the final, and being around a

1.20

favourite as opposed to a likely underdog), it's interesting to note that Ruud's accumulative starting prices combined to being around the

7.00

mark - implying considerably greater chances than his pre-tournament price indicated.
So, while injury to a main contender benefited us, and Ruud, last week, it's some welcome positive variance after a fairly disappointing Australian Open campaign which saw a number of players lose for us despite having similar or more break point opportunities than the player which beat them. We'll certainly take it.
Thiem strong favourite in Rio
Ruud is back in action in Rio de Janeiro this week in a slightly higher profile 500 level tournament, which offers no byes to the top four seeds, of which he wouldn't be one anyway. So he'll need to win five matches back to back again in the coming week to win another title, which is a tough ask, even though statistically, he's certainly one of the main contenders - as the table below illustrates:-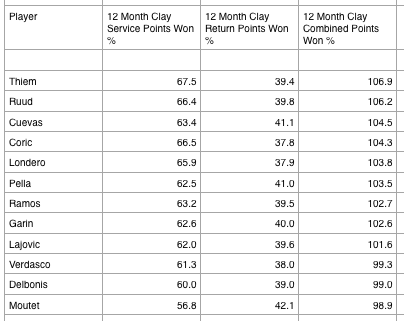 Top seed and heavy

2.14

tournament favourite Dominic Thiem unsurprisingly leads the field via these metrics but there's a number of contenders who aren't an absurd distance behind. Ruud is in Thiem's top quarter and they have a potential quarter-final meeting.
Londero can threaten in the bottom half of the draw
Finding some value in the bottom half of the draw seems logical, but it's quite a tough half to profile. Borna Coric has fitness concerns and hasn't hit a decent level for over six months, so Juan Ignacio Londero, Albert Ramos and Christian Garin look the main threats in the third quarter.
Londero is an interesting prospect with the Argentine failing to serve out for the match at *5-4 in the second set in his semi-final against Ruud last week before collapsing in the third set, but he exhibited a high level last week prior to that match, with a dominant win over Laslo Djere before getting the better of Guido Pella in straight sets.
He faces the aforementioned Coric, who has lost his last five and 11 of his last 12 outings (and the win prior to that was at

1.20

against Challenger player Di Wu), and Londero each-way at general market prices of around

23.00

looks as good an outright selection as any in Brazil for the coming week, for a small stake. Alternatively, if you can get a little bit bigger than this matched on the Exchange, it might be hedgeable in the latter stages - particularly prior to a final against Thiem.
Big servers historically thriving in Florida
Moving further North in the Americas we have the Delray Beach Open, in Florida, where there is a 250 outdoor hard court event taking place. Radu Albot last year rather spoiled a decade-long run of big-servers winning the title here, and this success for big servers isn't a huge surprise considering my metrics to assess court speed make this venue on the quicker side of medium-paced.
The list below of the main contenders does have a big server sitting at the top - tournament favourite Milos Raonic - while the likes of Nick Kyrgios and Reilly Opelka are the other rather serve-orientated players in the main list of contenders:-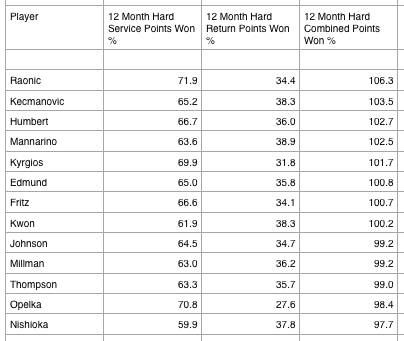 Tough to make a case for Kyrgios
Kyrgios

5.60

is top seed, with Raonic [4.6] second, so they cannot meet until the final, but it's very difficult to envisage the temperamental Australian, Kyrgios, as any value at these prices. Statistically he doesn't perform a great deal better than the average player from a service/return points won perspective, but he's one of the few players on tour who appear to be able to win more key points than their expectation would be (based on those service and return points won numbers) over the medium-long term.
However, it's also worth pointing out that he often does his best work on the biggest stage against high level opposition, and he won't find either of them on display in the coming week. Talented young players Miomir Kecmanovic

25.00

and Ugo Humbert [32.0] look huge threats in his top quarter. The second quarter is weaker, and it wouldn't even surprise me if wild card Brandon Nakashima, available at a best price of around 80/1 in the general market, in his first ever main tour tournament, showed his ability.
The 18 year old American is recording excellent numbers on the Challenger Tour, running at around the 105% combined service/return points won mark in the last 12 months on hard and indoor hard combined. This level translates extremely well to long-term success for an 18 year old player and in a fairly weak second quarter he would have some chances even immediately. Keep a close eye on Nakashima in the not too distant future.
Medvedev market favourite in Marseille
Finally, we have an indoor event in Marseille, which has several big names competing - with Daniil Medvedev

3.80

, Stefanos Tsitsipas

5.20

and David Goffin

7.60

top ten players on the entry list, and as the list of contenders below shows, Medvedev is quite a way ahead of the field:-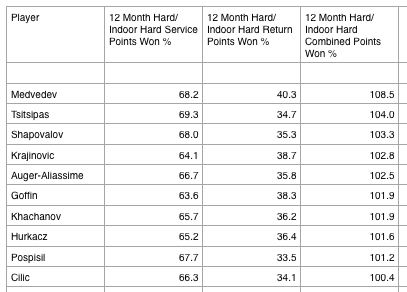 I expect conditions to be on the quicker side of medium-paced for an indoor court, which should again benefit those with strong serves. Medvedev doesn't really fit into the big-server bracket but the Russian does also have a strong record in quicker conditions.
Tsitsipas, who does fit into the serve-orientated bracket more, is the obvious main threat although statistically, Denis Shapovalov

9.20

will also fancy his chances, although he comes off the back of four straight defeats. However, it's worth pointing out that he's 1/14 combined for taking break points in these four matches, and while averaging fewer than four break points per match is hardly a positive, he's still running around 4.3 break points converted below expectation combined across these matches, who were all against competent opposition.
There's plenty of quality in the draw though, and with an overwhelming favourite and quite a level field after that, I'm not particularly enthused about anyone really from an outright basis in the south of France this week.