Premier League Season Preview: Infogol tips for title, top 6, top 10, relegation and top scorer
The Premier League promises some interesting narratives going into the 2020/21 season, as Liverpool attempt to retain their title.
Several teams have new managers embarking on their first full season in charge, while plenty have made big investments in the transfer market.
We've also got three new teams: West Bromwich Albion, Fulham, and - for the first time since the 2003/04 campaign - Leeds United. All three will be hoping to finish as high as possible in their first season back.
Reds overpriced to retain title
Liverpool finished the 2019/20 season comfortably clear at the top, 18 points above a Manchester City side who themselves had a gap of 15 points to Manchester United in third.
It is perhaps unsurprising, then, to see Infogol's model give both sides a 95%+ chance of ending the new campaign in the top four. However, despite their huge winning margin last season, Jürgen Klopp's Reds are not favourites this time around.
While they ended the season with a regular and expected goal difference well below that of City, Liverpool's success last season was built on the back of narrow margins, picking up points in games where they weren't at their best while their rivals failed to capitalise on dominant displays.
City, who have also substantially strengthened in terms of personnel this summer, have a 47.8% chance (2.09) of lifting the title compared to Liverpool's 38.9% (2.57) based on the Infogol model, with no other club north of 7% despite their own summer improvements.
This points to value in the market in backing a Liverpool retention at 3.60, with their rivals adding some exciting new names but also losing the experience of David Silva over the summer.
Top four looks settled
Manchester United and Chelsea found their feet towards the end of the season, picking up 21 and 18 points respectively in their last nine games. While the new season will not feature the same two games per week and five substitutions format we witnessed in June and July, the pair remain far ahead of the chasing pack based on Infogol's model.
When it comes to the chasing pack, last season's fifth-place finishers Leicester City may have missed their best chance to finish in the top four after punching above their weight xG-wise for much of the campaign before falling away amid a slew of untimely injuries.
Their season-long xGA of 49.9 was higher than the 41 they actually conceded, while Chelsea, in contrast, conceded 54 goals from just 45.9 xGA. Furthermore, Frank Lampard's side have already begun strengthening at the back with the addition of Thiago Silva and Ben Chilwell, while a new goalkeeper may also follow before the transfer window shuts.
With no other club given a greater than 25% chance of breaking into the top four, there could be value in backing a repeat showing, even if the finishing positions of the top four change.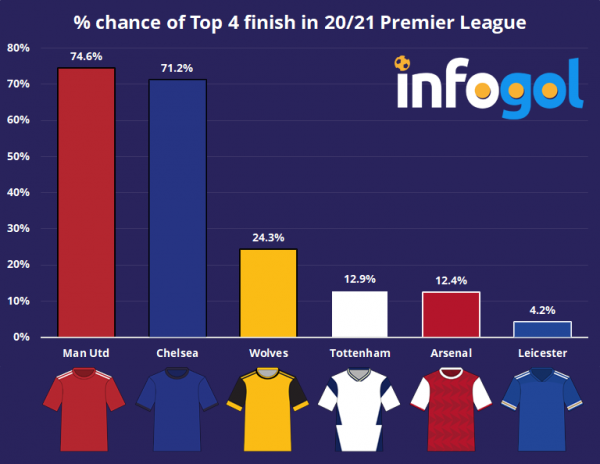 Wolves can grab a top 6 spot
Brendan Rodgers' Foxes will have the added distraction of Europe this season, even putting a top six spot in doubt. This is something which Wolves will not have to contend with, and Infogol gives them a 63.4% (1.58) chance of finishing in the top six after only a final day defeat at Chelsea denied them the same last season, suggesting the 3.05 (32.8%) odds look extremely generous. Indeed, they're also 24.3% to crack the top four, so their 7.60 (13.2%) odds could represent value.
The model also gives Arsenal and Tottenham a better chance than Leicester of cracking the top six, with new managers able to put their stamp on their teams in a first pre-season in charge, but Wolves represent the best value regardless of the loss of Jonny to injury and Matt Doherty to Spurs during the off-season.
They finished fifth in Infogol's xG table last season, but the congested top 10 in actual points means it wouldn't take much of a swing for them to improve on last season's seventh-place finish in the actual table.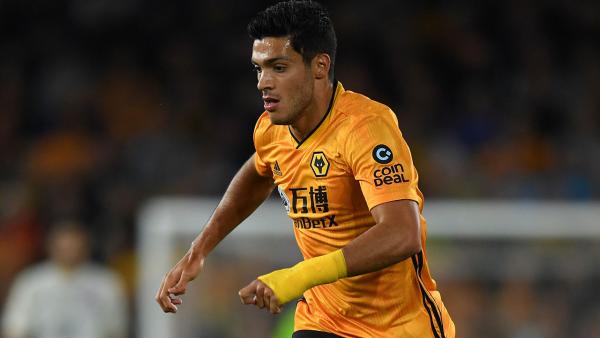 Saints can march to top half finish
Of last season's top 10 sides, Sheffield United and Burnley are the only clubs not tipped to keep their place according to Infogol's model.
The Blades' form in June and July cost them a top six spot, though there were still some standout results in victories over Chelsea and Tottenham, and Infogol gives them a 23.4% chance (4.27) of staying in the top half in the face of two improving north London clubs and others strengthening in recent months.
Southampton are being backed by Infogol's model to crack the top half, earning a 38.4% chance (2.60) which is close to their actual odds (2.40). Ralph Hasenhuttl's side enjoyed a strong second half to the 2019/20 season after finding a settled side, and were eighth in Infogol's xG table over the entire campaign.
Everton were even higher in seventh, despite their 12th place actual finish, and Carlo Ancelotti has already shown signs of improvement in both results and personnel.
While Burnley are tipped to drop out of the top 10 after finishing two points clear of Southampton last time out, there could still be value in backing them: Infogol gives Sean Dyche's men a 33.3% chance (3.0) of making it, on odds of 4.90 (20.4%).
Magpies likely to suffer
While Marcelo Bielsa's Leeds United are considered more likely to finish in the top half (24.8%) than suffer relegation (18.1%), Infogol's model doesn't say the same when it comes to their fellow promoted sides.
Fulham (44.7%) are favourites for the drop, with West Brom (43.5%) running them a close second, despite both sides adding to their squads in preparation for their top half returns, while Aston Villa are third favourites for the drop based on Infogol's model, having survived by the skin of their teeth last season, Newcastle United are the other club whose numbers jump out.
Steve Bruce's side stayed clear of serious relegation worries for much of last season, ending the campaign in 13th, but were dead last in Infogol's xG table. Their defensive work ensured 70.3 xGA translated into just 58 goals conceded, while they ranked in the bottom four for both xGF and actual goals scored and xGA.
Newcastle are given a 36.7% chance (2.72) of going down, with their odds at the time of writing sitting at 3.60 (27.8%). Indeed, they have longer odds of relegation than Crystal Palace, the other side who could find themselves looking over their shoulders.
While the Eagles have strengthened with the addition of Ebere Eze and Nathan Ferguson, both of whom impressed in the Championship last season, Roy Hodgson's side had the second worst xGF in the league last season and ranked 17th in Infogol's xG table, so will be keen to step up their game to avoid any relegation panic.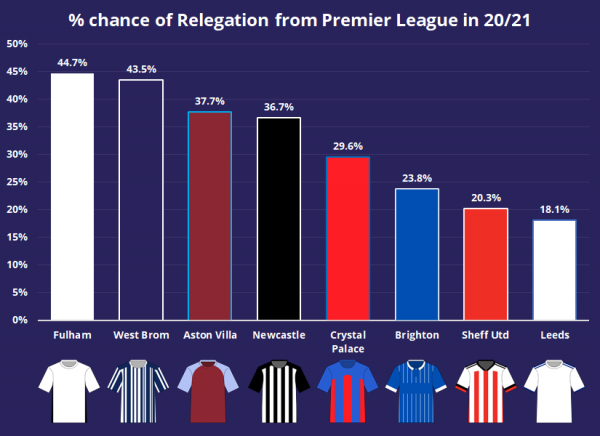 Werner could catch fire in debut season
Last season's xG per avg match leaders and the leaders in actual goals are very different lists, for a couple of reasons.
One reason is injury, with per-game leader Sergio Agüero missing most of the run-in but averaging 0.94 xG/avg match, but there were also two players with standout per avg match tallies who finished far behind Jamie Vardy in the actual charts.
Vardy (0.56) and Danny Ings (0.53) both earned podium places, but Tammy Abraham (0.77 xG/avg match and 15 goals to Vardy's 23) and Gabriel Jesus (0.89 and 14) both had a higher expected return. Indeed, Gabriel Jesus had the division's highest season-long xG with 20.7.
As well as the usual frontrunners of Mohamed Salah (odds of 6.80 for the golden boot), Harry Kane (7.60) and Pierre-Emerick Aubameyang (6.8), Timo Werner's odds of 10.00 are intriguing.
The Chelsea new-man scored 28 goals from 20.8 xG in last season's Bundesliga, a higher expected return than any Premier League striker, while Abraham's xG number from last season (and Olivier Giroud's of 0.68 per game) suggests the German will have the chances to shoot for a comparable target.
And that's before we get on to Chelsea's addition of Hakim Ziyech (12.1 expected assists for Ajax in last season's Eredivisie) and Kai Havertz (7.35 xA for Bayer Leverkusen in the Bundesliga). If Werner can adapt to the new surroundings, he could really catch fire.